Explore the Andrew Warren Historic District
Many of our guests at the Stewart Inn Boutique Hotel find themselves curious about the architecture and history of this incredible building. The Stewart Inn is one of the best examples of George Maher's architectural style in the country.  Throughout the Inn, you'll find stunning and original architectural details, all of which add to the luxurious look and feel of this prairie style home.  Situated in both the beautiful Andrew Warren Historic District and the Downtown River District, the Stewart Inn is also perfectly situated for maximum enjoyment of downtown Wausau. Within 2-6 blocks, you'll find incredible
shops
, museums like The
Woodson Art Museum
and the
Center for Visual Arts
, and a
food scene
that rivals any in Wisconsin.  Coupled with our outstanding hospitality and elegant accommodations, there simply is no better choice when it comes to lodging in Wausau. 
Book your room with us today.
The Andrew Warren Historic District
One of our favorite, simple activities to do in Wausau--and a popular activity with our guests as well-- is to take a walk around the beautiful Andrew Warren Historic District. The Andrew Warren Historic District is one of Wausau's oldest and most prominent neighborhoods, and it houses a number of historic homes, all beautifully maintained to this day.  Though some now are used for other purposes, the homes in this historic district were built between 1868 - 1934. In total, there are 20 buildings worth seeing in the district. A 
walking tour
of the entire district won't take long, making it a pleasant morning or evening stroll in Wausau. [caption id="attachment_6454" align="alignright" width="300"]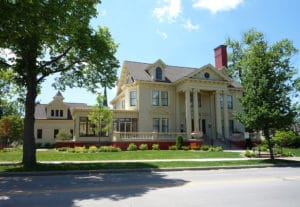 By Bobak Ha'Eri (Own work) [CC BY 3.0, via Wikimedia Commons[/caption]All property in the modern-day historic district was once owned by Wausau Sawmill owner Andrew Warren.  As the town grew, he sold off parcels of land to wealthy businessmen, who then built their homes in this district and made it into what it is today.  These prominent families built their homes in a variety of styles, including Greek Revival, Italianate, Queen Anne, Neo-Classical Revival, Prairie School, and 20th Century. Despite the differences, the homes create a harmonious and beautiful historic district. The most notable architect building homes in the Andrew Warren Historic District was George W Maher, whose Prairie School style was popular at the turn of the century. Among other historic homes featured in the Andrew Warren Historic District are the Cyrus C. Yawkey House, built in 1901 and renovated by George W. Maher in 1908, and the A.P. Woodson House built in 1914. Theirs was the last Prairie School style house built by architect George W. Maher in Wausau. Of course, you will start and end your tour of the Andrew Warren Historic District at the Hiram C. Stewart House, which was built by architect George W. Maher in 1906, and stands today as the Stewart Inn Boutique hotel. Come experience a piece of Wisconsin's history for yourself. 
Book a room at the Stewart Inn Boutique Hotel today.