See Frank Lloyd Wright Architecture in Wausau, Wisconsin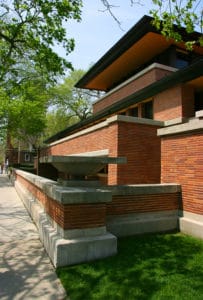 Wausau, a town that was named one of the "Best Places to Experience the Outdoors" by Wisconsin Trails magazine, is an incredible, and perhaps underrated city to visit. Though it's true that there are plenty of activities to enjoy outdoors in Wausau, it's also an incredible town for the arts. Here, you'll find a variety of great museums, such as the famed Woodson Art Museum, plenty of visual and performing arts, and some of the state's best architecture. In fact, the city's historic architecture, which includes the Stewart Inn and our neighboring Andrew Warren Historic District, is one of our favorite things about this special place. This spring, come visit us, and explore architectural gems like the Duey Wright House, which was designed by renowned architect Frank Lloyd Wright.
Book your room at the historic Stewart Inn Boutique Hotel today
.
Frank Lloyd Wright Homes in Wausau
There are many beautiful, historic homes in Wausau. The
Stewart Inn
, designed by architect
George Maher
, a contemporary of Frank Lloyd Wright, is but one of many. Several of these historic homes are on the National Register of Historic Places, including two local homes who were designed by Frank Lloyd Wright. The Duey Wright House was originally built by Frank Lloyd Wright in 1958 on a bluff overlooking the beautiful Wisconsin River. It's said that the L-shaped house is designed to look like a music note, as a tribute to the original owner. The Duey Wright house was the last residential building designed by Frank
Lloyd Wright. The second Frank Lloyd Wright home in Wausau is the Charles and Dorothy Manson House. This home was designed in 1938, and features strong horizontal lines and three descending levels. Both homes are within walking or driving distance of the Stewart Inn.  While you're taking in these beautiful architectural gems, you should also make time to walk around the adjacent Andrew Warren Historic District. The Marathon County Historical Society offers
guided walking tours
if you're interested. The Andrew Warren Historic District is the site of the majority of Wausau's oldest and most prominent homes, and a great place to learn about the history and architectural style of this charming Wisconsin town.
Sink into Luxury at Stewart Inn
At the end of the day, sink into the luxury accommodations at Stewart Inn Boutique Hotel. Our Inn features many of the original chandeliers, sconces, decorative fireplaces and stained glass windows of the home, and is itself on the National Register of Historic Places. Each room features a steam shower and a variety of high-end amenities. We also offer a nightly wine and cheese reception, which is the perfect start to your evening enjoying the remainder of downtown Wausau. Come explore the historic roots of Wausau, and revel in the luxurious ambiance of our Boutique Hotel.
Book your room today
.