Enjoy Evening Summer Concerts in Wausau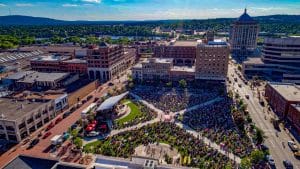 Summer is very nearly here, and we're looking forward to another great season spent with our guests in this incredible gem of a town in Wisconsin's Northwoods.  To put it in it's simplest terms, Wausau is an incredible town, with a great variety of attractions and things to do throughout the year. Wausau is the perfect destination for avid outdoor enthusiasts, art enthusiasts, and those just looking to get away from it all this summer.  To sweeten your evenings in this charming town, there are free summer concerts in downtown, just a short walk away from our boutique Hotel. 
Book your room
at the Stewart Inn today, and get in on the action in Wausau this summer!
Summer Concerts in Wausau
Wausau's core downtown area, locally referred to as the 400 block, is always a happening place throughout the summer.  It's home to a variety of festivals and fun events, including the summer
Concerts in the Square
series. 2018 will mark the 25th year of these incredible concerts, which is a wonderful way to cap a day spent in Wausau. The lineup hasn't yet been announced, but these fun evening concerts will certainly offer a variety of incredible music. The concerts begin on June 13, 2018 and run through August 22, 2018. They are easily reached from the Stewart Inn, which is centrally located within easy walking distance of downtown's Wausau's top attractions.
The Grand Theatre is also a great place to enjoy concerts, plays, and other shows in Wausau. This June, the Grand Theatre is hosting
An Evening With the Beach Boys
,
Peter Yarrow in Concert
, and
Jonny Lang
. The Grand Theatre also happens to be announcing their 2018-2019 season at their
preview party
on June 5, 2018, which will be the perfect time to snag your tickets for what is sure to be another incredible season. Whether you come town for a specific concert or event, or just want to unwind with a little music and local fun in the evening while you're here, there's no where better to stay than the Stewart Inn Boutique Hotel. Situated in both the beautiful Andrew Warren Historic District and the Downtown River District, the Stewart Inn is also perfectly situated for maximum enjoyment of downtown Wausau.  Add to this our impeccable hospitality and high-end amenities, and there is simply no better choice for lodging in Wausau. 
Book your room with us today
.