At the Stewart Inn, we offer a variety of items you can purchase as gifts. Feel free to select any item from below.
---
Stewart Inn Robe with Embroidered Logo
These beautiful robes are made by the Comphy Company. They are extremely soft, very durable and resist stains. They also are very eco-friendly as they dry quite quickly. Each robe has the Stewart Inn logo embroidered into the front left breast area. They come in five sizes -Small/Medium/Large/X-Large/XX-Large.
$105 per robe
---
Stewart Inn Coffee Mug with Logo
These hand thrown, midwest made, ceramic mugs come in several shapes and glazes. They are exceptionally well made, comfortable in your hand and collected by many B&B guests. They are dishwasher safe, microwaveable and hold a generous cup of coffee/tea. They are also incredibly durable. Each mug comes with an emblem that features the Stewart Inn Logo.
$22 for one mug
$40 for a pair
---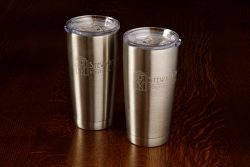 Stewart Inn Travel Mugs with Etched Logo
These stainless steel insulated travel mugs do a great job of keeping steaming hot beverages stay hot or ice cold beverages stay cold. They are professionally etched with the Stewart Inn logo and they conveniently fit in most automobile beverage holders. The etching is very subtle and extremely classy so you never feel like you are carrying a walking advertisement.
$30.00 per travel mug
---
Stewart Inn Beverage Coasters with Logo
These stoneware coasters are very attractive and highly absorbant with a neoprene underside to prevent scratching.They come in nine different designs, each featuring a different photo of the Stewart Inn. You can buy them individually or as a set of four.
$5 for one
$18 for a set of four
---
Comphy Sheets
These sheets are both luxurious and practical and after ten years in the business they remain our guest's favorite. They are incredibly soft. In fact, the more you wash them, the softer they get. They wear like iron. I've known people who have used them at a B&B for eight years. They wash easily and are incredibly resistent to stains. The sheets come in eight colors: white, cream, lavendar, silver blue, dove grey, mocha, navy and grey.
$158 per Queen sheet set
$164 per King sheet set
---
Comphy Quilted Blankets
Comphy quilted blankets, like the Comphy sheets, are both luxurious and practical. They use the same ultra-soft outer fabric. They wash and dry very efficiently. They wear incredibly well, even in a B&B type environment where they are laundered frequently. And they are very resistent to stains. These blankets come in eight colors: white, cream, lavendar, silver blue, dove grey, mocha, navy and grey.
$148 per Queen sheet set
$152 per King sheet set
---
Wisconsin's Own
The Wisconsin Historical Society in 2010 published "Wisconsin's Own - 10 Remarkable Homes" in an effort to document the history and significance of architecture in Wisconsin. After exhaustively researching 1500 homes on the National Register of historic places, the collaborative team narrowed their selection from 1500 to 20 homes. The Allyn Mansion, our former property was among the twenty featured and is the home prominently displayed on the cover of the book. While not one of the twenty homes, the Stewart Inn is mentioned in the book and there is one photograph of the landing in the section covering the Cyrus Yawkey House.
$45.00
---
At Home in the Northwoods
This gorgeous collection of photographs by Brad Bellisle is a collaborative effort between Brad and myself. Brad is a photographer out of Madison that I had been following on Instagram for several years and, when Sara and I decided to build the Owl Ridge Cabin, we wanted to use some of his photographs within the cabin. As we discussed which photos to include, I asked Brad if he had ever considered putting a book of photographs together. He said he hadn't but he was open to the idea if I was willing to do the layout for the book. I said I would and this is the culmination of that effort.
$30.00
---
LuAnn's Rhubarb Spread
We met LuAnn at a farmer's market in Oconomowoc in 2014. She sold a variety of things at the market but one item in particular stood out to us. It was her Rhubarb Spread. It had a wonderfully fresh rhubarb flavor and it paired really well with greek yogurt. Being locally grown and locally made, we decided to try it at our first Bed and Breakfast, Pleasant Street Bed and Breakfast. It was an instant hit. Since then, we have always carried LuAnn's Rhubarb Spread and sold it within our gift shop. It's a guest favorite for breakfast and within the gift shop!
$10
---
LuAnn's Chocolate Honey Butter
Several years after buying from LuAnn, she came to the Allyn Mansion one day to drop off a new case of her rhubarb spread. When she did, she brought along a few new items that she had added to her portfolio, one of which was the chocolate honey butter. It was stupendous! I knew it would be a great topping for biscuits but I also thought it might be fabulous as a topping for buttermilk waffles. We tried it and guests raved. Since then, we have been buying her chocolate honey butter in addition to her rhubarb spread. While we don't display it in the gift shop, we do sell it and store it in our commercial refrigerator.
$12
---
Galena Canning Company Balsamic Sweet Onion Jam
If you have ever wondered what the secret ingredient is in our broccoli cheddar quiche, this is it. It's the Balsamic Sweet Onion Jam from Galena Canning Company. This fabulous product adds a unique depth of onion and balsamic flavor and a little touch of sweetness to our quiche that takes it from delicious to sublime! It could also be used as a glaze for pork or added to a chicken pasta dinner with mixed vegetables and tender chicken slices. I've also used it as a savory spread on buttermilk biscuits with ham, cheese and egg.
$10 per jar
---
Bushel & Pecks Better Sriracha and Cherry Bomb Hot Sauces
Bushel & Peck's is a high-end food producer out of Beloit, WI. They go to farmers markets in the southern part of Wisconsin (including Madison) and they have a storefront in downtown Beloit. In addition to their own products, I have been told they co-pack food for people such as former James Beard chef of the year, Rick Bayless (Frontera Grill). The Cherry Bomb and Better Sriracha hot sauces are two of their best sellers. Both sauces go exceptionally well with potatoes, egg dishes and just about anything you want to add some spicy heat to.
$9 per bottle
---
Bushel & Pecks Raspberry Habenero Jam
The first item we ever bought from Bushel & Peck's in 2015 was their Raspberry Habenero jam. It has a luscious raspberry flavor and a gentle bite of habenero peppers. It has been a staple in our personal and B&B pantry ever since. We love using it with brie cheese and crackers or in one of our yogurt parfaits. It's also a guest favorite when we serve it on the side with our homemade buttermilk biscuits. I could also see it being used on ham or turkey sandwiches, as as a finishing glaze for grilled chicken or pork chops or as a filling for butter cookies.
$16 per 16 oz bottle
---
Bushel & Pecks Peach Jalepeno Jam
Having already fallen in love with the Raspberry Habenero jam, it was just a matter of time before we expanded our repertoire to include Bushel & Peck's peach jalapeno jam. It has a rich peach flavor with a subtle hint of jalapeno pepers. It's the perfect compliment to our homemade buttermilk biscuits or as an interesting filling for our dutch baby pancakes. You could also use it in yogurt parfaits, as a sweet accompaniment to a charcuterie plate, or as a glaze for grilled checken, roasted pork tenderloin or pork chops.
$9 per 8 oz jar
---
Cherry Republic Hot Cherry Salsa
Having vacationed in the Traverse City area for more than two decades, I am a huge fan of the Cherry Republic. They sell awesome products including the Boomchunka cookies, cherry ice cream, cherry soda, and just about everything cherry!. My favorite, non-perishable, item of theirs is the Hot Cherry Salsa. It goes wonderfully with tortilla chips or as a condiment for tacos, eggs and just about everything Mexican. However, I like to add it as my secret ingredient to Super Bowl chili.
$12 per jar
---
Muffy Glass Blown Glass Vases
When people think of the arts and crafts movement, there are certain artisans that come to mind. These artisans include Stickley, Roycroft, Limbert, Van Erp, Heintz, William Morris and, of course, Tiffany. These handblown vases remind us of their style and we were instantly drawn to them when we discovered them at the Richard Driehaus Museum in Chicago. Having purchased one vase for ourselves, we reached out to Celia Hunt to see if we could sell them at the Stewart Inn. She was delighted by the idea and drove up to Wausau to show us some of the pieces that she had. These were our favorites.
$70-$140 per vase, please inquire
---
Cast Iron Tea Pots
These beautiful cast iron tea pots are both functional and decorative. The cast iron construction allows these tea pots to hold the heat exceptionally well and keep your tea/hot water at the right temperature for a long time. It also has a beautiful modern Asian design so it can sit on your countertop or tea stand and serve as a great decorative element. The tea pot has a drop-in tea strainer that can be used for both loose leaf or bagged tea.
$45.00 per tea pot